I save money on gas; I Pay $1 a litre at current price
It is pretty amazing how well our hydrogen generators really work. Cheap to buy and easy to install, our hydrogen generators can save you up to 50% on gas. Our guarantee is 20 to 30% better MPG. Save money on gas today!
Like my 2007 Aveo I just bought. It is very nice paying $1 a litre for gasoline as this is what it works out to when I have to fill my tank. I save money on gas. Here is a video on the system.
https://www.youtube.com/watch?v=4cQAFu06CW0&t=2s
With the price of gas at $1.45 or $1.50 a litre it sure does help to save money on gas. The price of gas in BC, Abbotsford, Toronto, Calgary, Ottawa, Timmins, Peterborough, Sidney, Newfoundland, PEI is really high. We at Fuel Genie Systems can help.
As people wonder all the time how to save money on gas the solution is to buy one of our kits.You will save money on gas for years!
A lot of people look on google, see the POOR reviews on hydrogen kits. These reviews are based on the hydrogen generator electrolysis kit that interfaces via the air intake box. They are NOT based on our kit.
While our kit also uses electrolysis to make hydrogen gas, that is where the similarities end.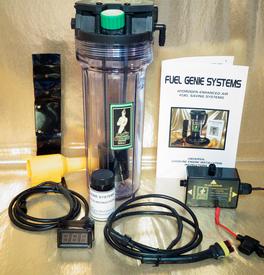 It has:
A MICROPROCESSOR controller box which varies hydrogen gas levels
A LED display showing real time hydrogen gas levels
A FOB hand held controller that allows the user to adjust hydrogen gas levels on the fly for fuel savings in the city or on highway
The hydrogen gas is made in the canister where the core and reservoir sit, together
As the kit plugs DOES plug into the motor vacuum of the car it does give the motor a constant, smooth and regulated flow of hydrogen to the motor as well.
These 4 characteristics of this kit make it quite a bit different from a google hydrogen generator kit. A google kit really does NOT save money on gas. At least no where near like *ours* does.
The Aveo gets way better gas mileage and has much more power and pep as well. Noticed this in 1/2 a day of installing the kit and driving the car for the 1/2 day, non stop. The kit installs on any car, gas diesel or hybrid electric. It's pretty bang off at working.
More to come on this one. Mileage videos and more testing.
Really nice to have a car that saves a lot on gas thought...
Dave Scrivens
SE Hydrogen Hybrids
sehydrogenhybrids.com