RARE EARTH TITANIUM WIRELESS CONTROL ​

ONLY FUEL GENIE SYSTEMS NOW HAVE "RARE EARTH TITANIUM" CORES.
THIS MEANS NO MORE RUST, LESS AMPERAGE DRAW ON YOUR CAR'S SYSTEM
& MAINTENANCE FREE OPERATION.THE 12"X 7" HW DIMENSIONS ALLOWS IT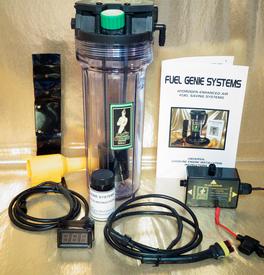 TO BE PLACED IN TIGHT SPACES IN THE ENGINE COMPARTMENT OR BEHIND
THE GRILLE. EXCLUSIVE WIRELESS REMOTE CONTROL ALLOWS DRIVERS TO
ADJUST HYDROGEN OUTPUT WHILE ON THE ROAD. HIGHER HIGHWAY
SPEEDS NEED MORE HYDROGEN- LOWER IN-TOWN SPEEDS NEED LESS
FOR OPTIMAL FUEL SAVINGS. DRIVE OVER 5,000 MILES BETWEEN REFILLS. KIT
CONTAINS EVERYTHING YOU NEED FOR THE INSTALLATION. SELF CONTAINED
ELECTRONIC ACTIVATED SWITCHING TURNS SYSTEM OFF WHEN
ENGINE STOPS RUNNING.
Diesel kits: $1050 CDN + Tax
Gas Kits for Motors over 1.8L $1050 CDN + Tax... Volo Included
Gas kits for Motors 1.8L and below... $950 CDN+ Tax
Gas kits for Prius $900. CDN + Tax